China Region Sales Marketing And Data Service - Bijapur
Thursday, 15 December 2016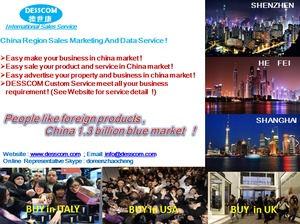 Contacts

doreen
Item description
Easy make your business in china market !
Easy sale your product and service in China market !
Easy advertise your property and business in china market !
DESSCOM Custom Service meet all your business requirement ! (See Website for service detail !)

People like foreign products , China 1.3 billion blue market !

All china region sales service market promotion !
Thousands of China Internet advertising and campaign platform!
Professional Chinese sales representative online and offline service !
Customized services meet all kind of sales and order associated tasks !

Optimize China market investment !
Break through the sales bottleneck of China market!
Big strides open up China market !
Over fulfill China market annual sales target!

Constantly innovation ideas, positive exploration spirit!
Show our worth for the continued world prosperity !